Something to look forward to!
Happy New Year 2022!  I always get excited for a new year..I like new beginnings, I like fresh perspective and to mentally push the "restart" button in my brain! 2021 was a not- so – fun year that I did not see coming and now that its over, I am just so grateful to have it behind me!
SO ,what do I look forward to this new year?? On a personal note, I'm looking forward to the empty nest feeling..awe….its kinda cool. I think of all the things my hubby and I can do now, we are still processing it! I am looking forward to my sons wedding in the fall, and honestly, just looking forward to simple things..nothing grand. I have a fresh appreciation for the simple things that make life full, ya know?
For Debs Sweet Cakes, I am looking forward to restarting my dessert box offerings. I started it last fall and with radiation, I had to back burner it quickly.
I do much more fun sweet bites than just cookies and cake! I love making miniature desserts, fancy dessert cakes and anything that is yummy and so pretty! In my dessert boxes I want to give a variety of desserts treats. I envision, a self indulgent treats for you and your family, or a fabulous gift to give to someone. 🙂
Here's the info:
$45
PREORDER/PREPAID ONLY
2 gourmet cupcakes
2 heart shaped vanilla bean sugar cookies
4 chocolate dipped strawberries
2 heart shaped cake pop truffles
2 heart shaped fresh fruit and custard tarts with mini meringues
Packaged with a red bow..perfect for a gift ( or eat yourself!)
Available 2/8-2/14
Text your order ( its easier that way) 704 517 2103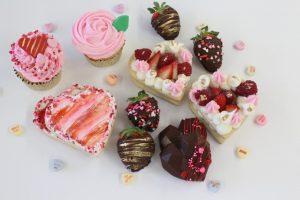 Valentine box is so much fun! Packaged in a long stem rose box, the treats nestled in it!