What's new for the Fall months to come!
Hey everyone! Its been a minute since I've done a post! Summer went by way to quickly for me! I don't know about you, but I'm ready to embrace the fun season/holidays to come..how about you? I'm kicking off my cookie box of the month in September with this adorable box with Antique truck filled with apples and fall leaves. I'll be going to apple fest this year ( in Hendersonville) and I'm just thinking of apples.. and apple spice!!
My cookie boxes are great for gifts, take to the office, or take to a gathering. The design are so festive and of course the vanilla bean sugar cookie is so good, people are always happy it tastes as good as it looks!
In cake, dessert side of things, I think you all know this is a busy season so if you are wanting custom cakes, please book early! 🙂
In October I will add a seasonal cupcake box as well as new flavors and fun holiday designs!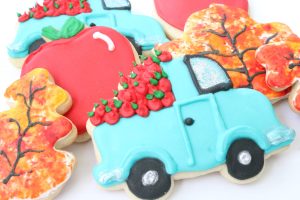 Sweetly yours
Deb
$35 plus tax ( 12 cookies)
Email or text me orders, don't miss out on this lovely box that will be enjoyed by all!